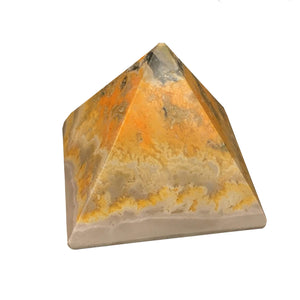 Bumblebee (Jasper) is a combination of volcanic matter, hematite, sulfur, etc. It is found in Indonesia.
It is recommended to wash your hands after holding the stone due to the sulfur. 
Metaphysical Properties
Energy Blockages, creative, motivation, will power
Element: Earth
Chakra: Solar Plexus, Sacral
Bumblebee enables you to make changes as it activates the solar plexus and sacral chakras. It aids in releasing energy blockages. It is a very powerful creation stone, enhancing creative talents, motivation and will power.