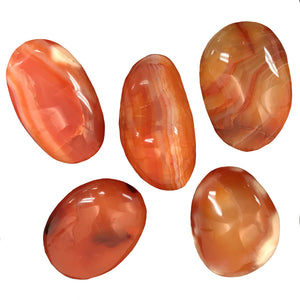 Carnelian is an orange - coloured chalcedony, a mineral of the quartz family. These particular stones are from the mines of Madagascar.  
Metaphysical Properties

Confidence, vitality, sexuality, creativity, motivation
Element: Fire
Chakra: Root, Sacral, Solar Plexus
Carnelian is a stabilizing stone, that assists in taking action in creative manifestations. Carnelian aids in one's vitality and helps the individual overcome fear. 

**Please note that due to the nature of our products each piece is unique and therefore varies in shape and size.  Our sizing of the stones are close approximations. Sold as singles.